23 Mar 2019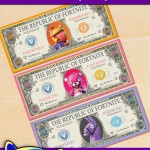 FREE Printable Fortnite Play Money
Be careful! Fortnite is addictive and everyone in my house plays now! For all the Fortnite fans, I made this free printable Fortnite play money for kids to enjoy. It works well being printed and put into party favor bags, giving to kids to pretend with, or using to teach kids about money.
This free printable Fortnite money is in JPEG format for easy printing. The JPEG download prints 6 Fortnite dollars (with a v-buck value) on 8.5 x 11 standard letter size paper.
Each bill has custom serial numbers, symbols, and text as well as fun Fortnite character in the presidents space. There is the Fortnite Llama one dollar bills (100 v-bucks), Cuddle Team leader, the pink bear on fives (500 v-bucks) and Beefy Boss, the burger head on tens (1000 v-bucks). Each having different colors, serial numbers and information related to the amount of money. Essentially a v-buck is equal to a penny so 100 v-bucks is like a dollar in real money. Keep in mind this is only play money and you cannot use this to purchase real v-bucks from the Fortnite store.
Kids can use these along with my other printable play money to open their pretend shops and sell fake food, candy and toys. These also work great as party of a general game party theme. Just print these out and let your kids imaginations go wild. Make learning currency fun for your children. You can download your free printable Fortnite play money below.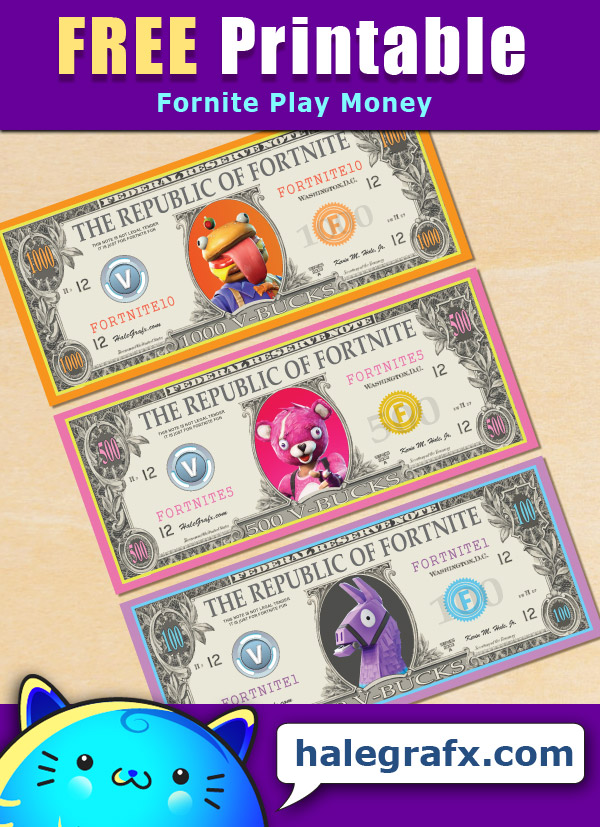 File Size: 1.43
Format: JPG
Check out my Fortnite Speed Draw of the Prisoner
Grab some Fortnite party supplies & accessories!
To complete your Fortnite. party, check out these fun Fortnite party supplies, table cloths, masks and other fun items such as a pinata. Grabbing some fun party decor, napkins and decorations will help tie together your game party theme! You could get a lot of your plates, utensils & streamers at the dollar store. Just get them in colors like green and brown; matching your party theme.