26 Sep 2016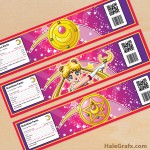 Free Printable Sailor Moon Water Bottle Labels
There's a party in the Moon Kingdom! Here is a FREE printable Sailor Moon water bottle label set is in PDF format. This fun label set is themed with Sailor Moon herself. Two additional labels also have the transformation brooch and the crystal star. Sailor moon is holding the moon wand, there is star magic in the background and a crescent moon. Cut out and use them for a Sailor Moon party, Kids birthday, teen party, wall decoration, scrapbooking or just for a fun water bottle label for any occasion. In no time your crew will be ready to fight evil by moon light! The PDF prints 3 Sailor Moon themed water bottle labels on 8.5 x11 standard letter size paper and will fit most regular sized water bottles.
This printable comes with crop marks to make cutting out your Sailor Moon water bottle labels easier! I recommend using glue or tape to stick your labels on the bottles. You can download your free Sailor Moon water bottle labels below.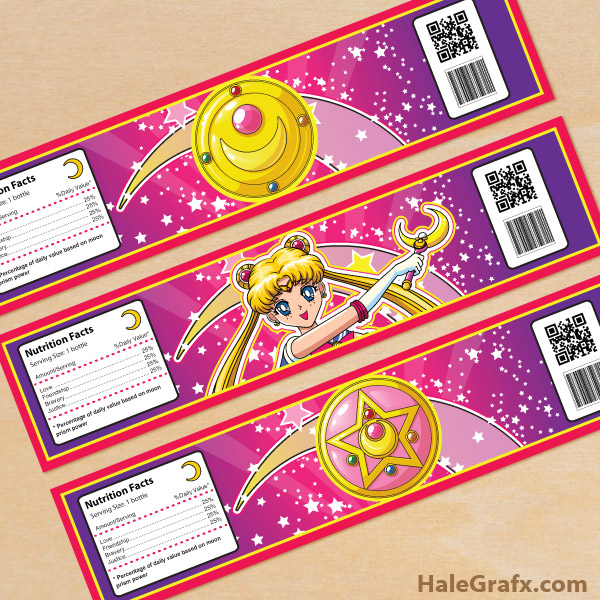 File Size: 489 KB
Format: PDF
What paper is best for my Sailor Moon bottle labels?
If you need those labels quick, multipurpose printer paper works great! It is easy to print and quick to trim. Your senshi will have their drinks and be back to saving the world in no time!
You can save on ink long term if you invest in a laser printer as well. A really great idea if you plan on doing a lot of parties with printables for years to come. Also great for scrapbookers and homeschoolers. I bought one a few years ago and love it.
If making higher quality labels for your Sailor moon party is the priority you can try using a cardstock paper. Some of my visitors have been concerned about their water bottle labels getting soggy from the moisture of the bottles and offered a trick. After printing the labels they coat them with contact paper, then cut them, to make them water resistant. I would still only use the thinner multipurpose paper for this. You can get contact paper here!
Grab some Sailor Moon party supplies & accessories!
To complete your Sailor Moon. party, check out these fun Sailor Moon party supplies, cake toppers, figures and fun costume items. Grabbing some fun party hats, napkins and decorations will help tie together your party theme together!