30 Mar 2016

Hey Shopkins fans, how about some more free decorations! This is a free printable Shopkins banner pack that has all the letters in the alphabet and some Shopkins spacer sheets. Each letter is done in a bright font with cute little shopkins sitting at the bottom. Just pick the letters and spacers you want to print to make your own custom Birthday, party or event banner and add a unique name or phrase.
The spacer sheets include a group of Shopkins coming out of a basket as well as individual character sheets. The Individual Spacers have Spilt Milk, Cheezy and Apple Blossom. Use the Shopkins spacer sheets as decorate party posters too! Print these out and in no time you will be able to easily create a large custom Shopkins banner! This pack includes some simple instructions for assembling with string and tape. Each letter prints from a single PDF file and will fill most of a 8.5 x 11 sheet of paper unless you shrink it in your print settings. When this banner is put together on string it will make a great decoration for your Shopkins party. You can download your free Shopkins Alphabet banner pack below.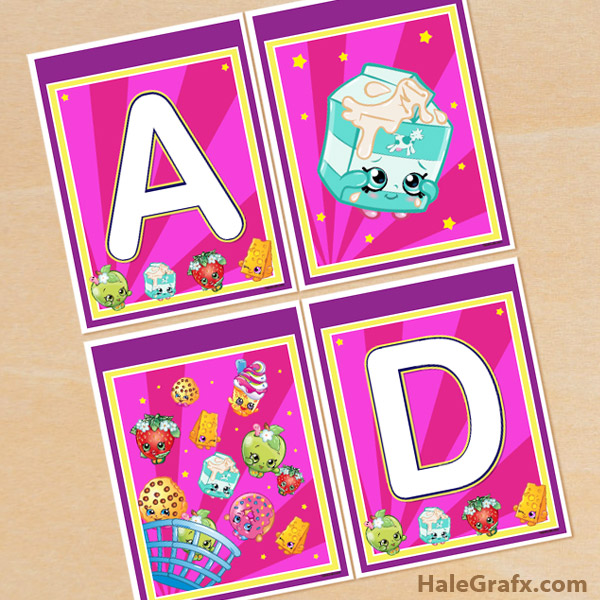 File Size: 3.88 MB
Format: PDF
If you need printer paper for your Shopkins banner…
Save on your Shopkins banner printing or printing many other free printables from HaleGrafx. You can get a deal on printer paper here.
Don't forget Shopkins party supplies!
To complete your Shopkins party, take a look at these Shopkins party supplies! Plates, cups, napkins, party favors etc., decorated with various characters from the Shopkins lineup that will help tie together your party theme!
Comments