04 Dec 2014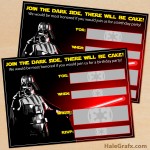 FREE Printable Star Wars Darth Vader Birthday Invitation
Join the Dark side, there will be cake! Here is a free printable Star Wars birthday invitation for Darth Vader fans. I have been a Star Wars fan since I can remember. I saw return of the Jedi (original release) in the theater when I was a very little boy. I loved them. This invite has Darth Vader with his red light saber. This invitation says "Join the Dark side, there will be cake". It also says "We would be most honored if you would join us for a birthday party". A slight variation of a darth vader quote to fit this fun invite. You can choose from PDF and JPEG format for printing.
JPEG Star Wars Printable Invitation
This option offers a quick an easy method to invite guests to your Star Wars party. Just print out the Jpeg and write in your party details. Or use the force and make your pen float over and write it for you (just kidding of course). Great also to use with colored markers and write your party info in fun and creative ways. This Star Wars themed invitation measures 5 x 7 inches.
PDF Star Wars Printable Invitation – Easy Type and Print Option!
With the PDF version you can simply print your invites like the JPEG version and fill in details with a pen or marker. However if you want to save time or don't like to write, you can type write into this invitation. There are a number of editable areas to type in the birthday recipient, time of party, party location and RSVP info. The free Darth Vader PDF printable will print two invitations to a sheet at 5 x 7 inches. You can download your free Star Wars Darth Vader birthday invitation below!
File Size: 1.07 MB
Format: PDF & JPEG
Star Wars: Watch Me Draw Sith Lord Darth Maul