11 Dec 2019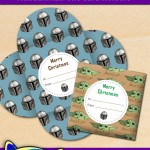 FREE Printable Star Wars Mandalorian Christmas Gift Card Holders
Where are all the Mandalorian toys!? Especially for Christmas! Most you have to pre-order. What you can do though is use these free printable star Wars Mandalorian gift card holders to put in money or a gift card for your love ones to pre-order Baby Yoda gifts. Sort of like an I-owe-you or "The baby yoda gift I wanted to get you is unavailable, but here's some money to pre-order one".
There are 2 different themed Mandalorian gift card holders downloadable in PDF format. One has the Mandalorian's helmet in a pattern and the other has lots of little Baby Yoda. There is a round  label in the middle of each gift card holder that says "Merry Christmas" and has a place to put "to" and "from". There is also a Mandalorian Helmet on the labels.
These are super easy to print and fold into gift card holders. You don't need to use tape or glue. I've included a fold and cutting guide to help get these assembled. The sides fold in on each other to secure the gift. The Mandalorian gift card holders were designed to print on 8.5 x 11 inch paper. You can download your free printable Mandalorian gift card holders below!
File Size: 2.9 MB
Format: PDF
What paper for Mandalorian gift card holders…
For a sturdy gift card holders, I recommend using a white cardstock paper. Using a cardstock gives you more durable holders. You can also use standard printer paper and save money on your Mandalorian printable printing when you buy your paper in bulk. You can get regular printer paper here.
Watch me draw Baby Yoda from Star Wars Mandalorian
Check Star Wars and Mandalorian gift ideas!
Make holiday shopping easy! Take a look at Star Wars and Mandalorian toys and gifts here! If you are having a holiday party go to the dollar store and save on supplies like Streamers, plates, cups, utensils and napkins in matching colors.