01 Jul 2016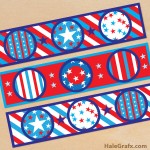 FREE Printable Water Bottle Labels for 4th of July
Happy Independence Day! Celebrate the red white and blue with these free printable 4th of July water bottle labels. They are in PDF format and will make a great addition to your upcoming Independence Day celebration, get together or party. Use these along with any of my other free printable 4th of July printables.
This PDF prints 3 different 4th of July water bottle labels, 3 to a sheet on 8.5 x11 standard letter size paper and will fit most regular sized water bottles. These labels have red white and blue stripes, stars and patriotic patterns. These free printable bottle labels come with crop marks to make cutting out your water bottle labels easier! I recommend using glue or tape to stick your labels on the bottles. You can download your free 4th of July water bottle labels below.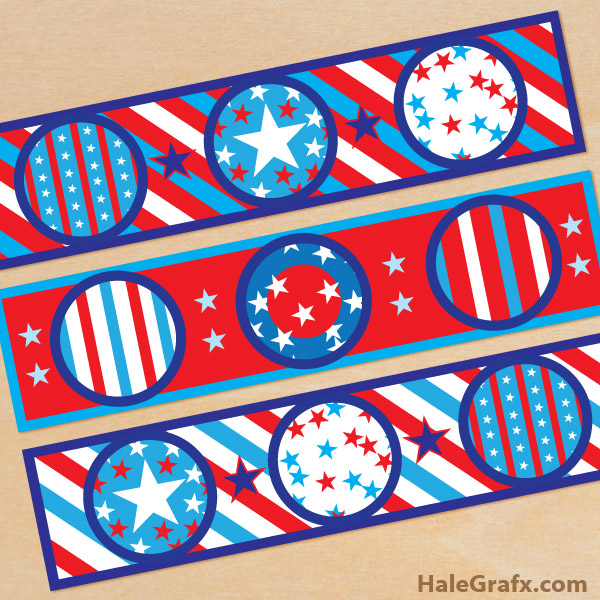 File Size: 219 KB
Format: PDF
What paper is best for my 4th of July bottle labels?
Printing my water bottle labels on an inexpensive paper such as multipurpose printer paper works for me. It is easy to bend, tape, fold and quick to trim. You can save on ink long term if you invest in a laser printer as well. I bought one a few years ago and it has been really dependable. If you want thicker/sturdier water bottle label you can try using a cardstock paper. Some of my visitors have been concerned about their water bottle labels getting soggy from the moisture of the bottles and offered a trick. After printing the labels they coat them with contact paper, then cut them, to make them water resistant. You can get contact paper here!
Don't forget 4th of July party supplies!
To complete your Independence Day party, check out these fun 4th of July party supplies! Plates, cups, napkins, party favors etc., decorated with Stars, stripes, red, white and blue will help tie together your party theme!