24 May 2016

It's party time in Zootopia! This is a free printable Zootopia banner pack that has all the letters in the alphabet and a good collection of character spacer sheets. Each letter is done in a fun font with main characters Judy Hopps and Nick Wilde at the bottom. Just pick the letters and spacers you want to print to make your own custom Birthday, party or event banner and add a unique name or phrase.
The spacer sheets include Nick Wilde, Judy Hopps and Flash the Sloth from the DMV.  Print these out and in no time you will be able to easily create a large custom Zootopia banner! This pack includes some simple instructions for assembling with string and tape. Each letter prints from a single PDF file and will fill most of a 8.5 x 11 sheet of paper unless you shrink it in your print settings. When this banner is put together on string it will make a great decoration for your Zootopia party. The spacer sheets also make great Zootopia posters to hang around your party! You can download your free Zootopia Alphabet banner pack below.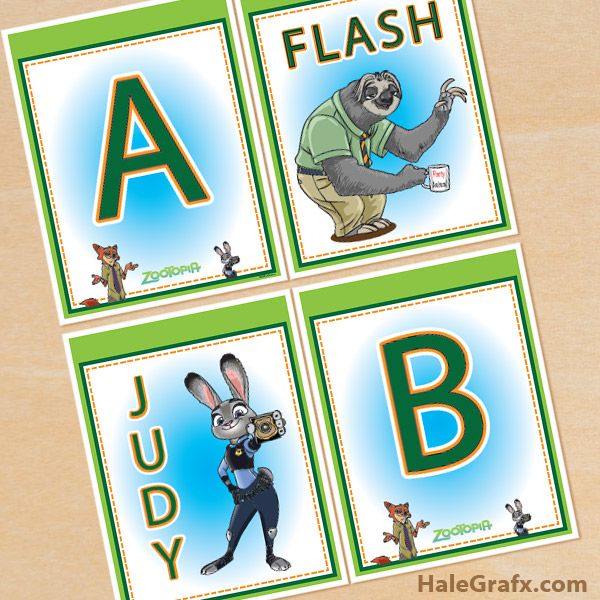 File Size: 5.42 MB
Format: PDF
What paper works best for printing banners?
When it comes to banners I always go with an economical choice so I suggest trying a multipurpose printer paper. It is easy to bend and quick to trim. You can save on ink long term if you invest in a laser printer as well. I bought one a few years ago and love it.
What Can I Use to Cut My Zootopia Banner?
Scissors can get the job done. But if you are looking to do straight edges and doing them often like in this banner, I recommend a paper cutter. It will make quick work of all those straight cuts. With banners you will be doing a lot of straight cuts so a paper cutter can really come in handy!
Don't forget Zootopia party supplies!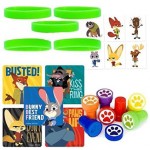 To complete your Zootopia party, check out these fun Zootopia party supplies! Plates, cups, napkins, party favors etc., decorated with Zootopia characters and designs will help tie together your party theme!