21 Jan 2020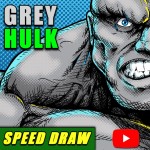 Incredible Hulk Speed Draw Video and free printables!
Check out my video where do an Incredible Hulk Speedraw. I've always loved drawing and the Incredible Hulk is my favorite comic character! Along with this speed draw you can watch I am including links to some of my free Incredible Hulk printables. My goal is to start doing Speed draws, printable tutorials and even some custom figure creations. This is also a fun way to see some of my printable creation process.
My incredible Hulk Speed draw video!
CLICK HERE to see my Incredible hulk speed draw or click the image below!
Show your support for my Youtube Channel!
I encourage you to like, comment and subscribe to my videos. It will help support and grow my channel.
Check out my free Incredible Hulk printables?
Here's what FREE incredible Hulk printables I have so far:
Free printable Hulk Banner
Free printable Hulk cupcake toppers
Free printable Grey Hulk party Invitation
Free printable Green Hulk party Invitation
Don't forget Incredible Hulk party gifts!
Need cool comic book themed gift ideas to go with your free Incredible Hulk printables, check out these fun Incredible Hulk gifts!  Head to Walmart or a dollar store for green plates, cups, napkins, streamers etc. You can buy solid colors that match your party theme for a really low price!