03 May 2012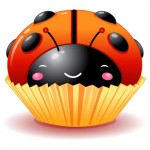 Kawaii Ladybug Cupcake Illustrations
This series of kawaii ladybug cupcake illustrations was a lot of fun to create. It was inspired by my wife's love of amigurumi. On one of the many sites she visits she found a lady who crochets little amigurumi creatures such as ladybugs and puts them in cupcake tins. We decided it would be a great idea if I illustrated some ladybugs in this style and put them in cupcake tins.  In addition to this I also sculpted a couple little ladybug cupcakes out of polymer clay. Check out the polymer clay ladybug cupcakes here!
As you can see below I came up with quite a few variations attempting different color variations to emulate flavors of cupcakes and holiday themes.  I offer these designs as products on zazzle.com. I have found that a lot of people seem to purchase these for their business cards in addition many people like to buy these as shirts.
Here are some of the kawaii ladybug cupkake products I have available. Take a look or head over to the Ladybug Land shop.
[zstore contributorhandle="ladybugland" keywords="cupcake"]
Comments