07 Aug 2012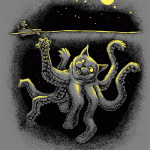 Octo-Puss, Cat and Octopus Sea Monster Illustration
This Octo-Puss illustration is part of a series of pun drawings I am doing inspired by my departed father. He loved to joke around and loved puns. I keep a list that he and I made on the phone one night a few months before he passed away. He contributed most of the ideas and I kept it to create humorous product designs. Its roughly seven years later now,  close to his birthday and I thought that it was about time I start creating shirt and product designs with these ideas.
This Octo-puss is litterally a cross between a cat and an octopus turned sea monster. To take it a step further I created some scenery and placed a little mouse in a row boat helplessly aware of his impending doom. This was a pretty time-consuming piece because I did a great deal of pointillism in order to complete the ink work. I drew this cat sea monster with a mixture of Sharpies and Micron pens. The overall effect was pretty rewarding! I think it looks great on shirts as well as products such as mousepads. Check it out below!
Octo-puss Shirt on Spreadshirt
Octo-puss Hoodie on Spreadshirt
cool Octo-Puss products available at my zazzle shop!
[zstore contributorhandle="halegrafx" keywords="octo"]