13 Dec 2012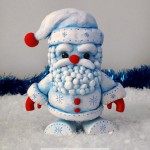 Christmas Frost Santa Color Blanks Figure
Happy Holidays! Christmas is probably the most celebrated holiday in our house. We start decorating pretty much right after Thanksgiving and then it seems like Christmas for a whole month. Color Blanks can be a great way to add to your holiday decorations with your own artistic touch.
This Christmas-inspired Frost Santa Color Blanks figure started as a large snow man with a LED light inside of it. I like RoseArt's idea of the light-up figures and they look really cool with the pens colored on them as well. In the case of sculpting polymer clay onto the Color Blanks figure, the LED light does not show up well. It either has to be relocated or removed.
To make my Frost Santa Color Blanks figure I took the snow man figure and removed the LED light. Not to worry though, I am definitely saving it for another project. I sculpted some white and red polymer clay onto the snow man and turned it into a Santa Claus figure. After Some light blue and white acrylic paint I added snow flake details with light blue Color Blanks pens. Voila! My Frost Santa Color Blanks Figure is complete and has now joined our huge family of Christmas decorations.
Comments