16 Mar 2013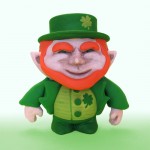 Leprechaun Color Blanks Figure for St. Patrick's Day
Happy St. Patrick's Day! It occured to the me the other day that Color Blanks figures are the perfect size to be leprechauns. With St. Patrick's Day quickly approaching I did a quick search to find a figure that I could turn into one.
I found this little snow man Color Blanks figure that seem to fit the bill. Once I got started it was a process of adding some polymer clay to his face and feet and putting him in my oven for a first baking. For your viewing pleasure below are some pics of the original snowman Color Blanks figure and the figure once I started applying clay.
I was recently asked if it is safe to bake these figures and I don't recommend baking them in the same oven that you cook food in. I bought a used Nuwave (infrared) oven that I cook my figures in. The Nuwave ovens are small, much cheaper than buying a real second oven and will trap any fumes produced by the figure.
With the leprechaun Color Blanks figure, after the first baking I applied base coats of  acrylic paint to the hat, face and body. After the paint was thoroughly dry I sculpted the leprechaun's jacket and beard. I then took the Color Blanks figure and put it in the oven for a second baking. It is important to note that I cook my figures with acrylic paint as well. As long as the underlying figure does not warp, the paint will hold up to the temperature.
With a few final paint & marker touch-ups, my Color Blanks Leprechaun figure is all set to go. Have a great St. Patty's day!