21 Nov 2012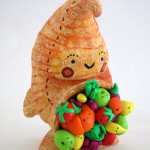 Thanksgiving Cornucopia Color Blanks Figure
Happy Thanksgiving! Here's a fun Color Blanks figure modification I just finished for 2012 Turkey Day. Of course instead of making a Turkey Color Blanks figure I thought I would try a different direction for the Thanksgiving theme.
I started with a figure that had a can body shape. RoseArt was kind enough to send me some really cool and interesting figures to choose from this round and the can inspired me to create a cornucopia Color Blanks figure. I used polymer clay to modify the shape, acrylic paint for some color and Color Blanks pens for some details.
I then stuffed the Cornucopia's open belly with all kinds of Kawaii style fruit & vegatables sculpted out of polymer clay. My 5 year old daughter who loves scuplting and drawing gave me a hand on this figure and helped sculpt many of the fruits and vegetables.