09 Nov 2015

Are you having a Shopkins party? I know at least one of my daughters, if not both will be having a shopkins theme this year. Here are some free printable Shopkins Cupcake toppers. They make a great addition to any party or a toy themed get together with friends. This free printable includes 6 different Shopkins. My daughters are getting big now and actually helped me color these guys in Adobe illustrator.
On these free printable cupcake toppers you get You get Spilt Milk, Chee Zee, Dlish Donut, Apple Blossom, Kooky Cookie and Strawberry kiss Shopkins characters. These Shopkins cupcake toppers print 12 to a sheet in PDF format. The cupcake toppers are designed to be cut with scissors or a 2 inch craft punch and printable on 8.5 x11 standard letter size paper. You can easily assemble your Shopkins cupcake toppers with tape or glue and toothpicks. Download your free Shopkins cupcake toppers below.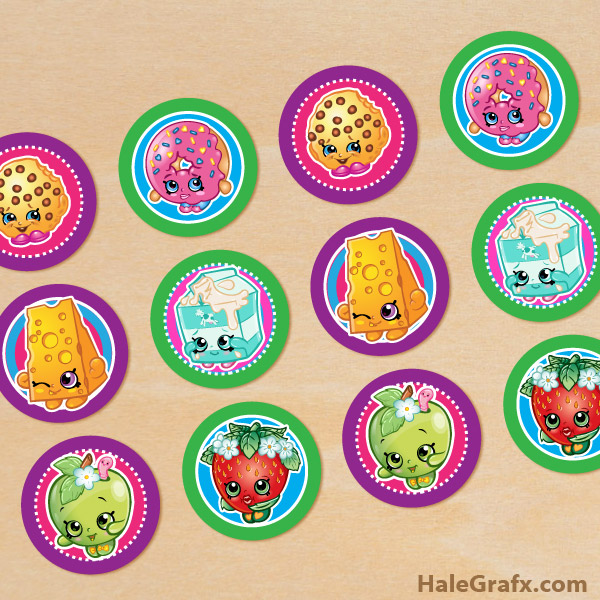 File Size: 869 KB
Format: PDF
What should I print my shopkins cupcake toppers on?
Printing the shopkins cupcake toppers work fine on an economical choice such as multipurpose printer paper. It is easy to bend and quick to trim. You can save on ink long term if you invest in a laser printer as well. I bought one a few years ago and love it. If you want thicker/sturdier cupcake toppers try using a cardstock paper.
Don't forget Shopkins party supplies!
To complete your Shopkins party, check out these fun Shopkins party supplies! Plates, cups, napkins, party favors etc., decorated with Shopkins characters and designs will help tie together your party theme!
Upgrade your Shopkins cupcake toppers!
Do you need your Shopkins printables customized with a name, want to add a photo, or simply want to have my printables emailed to you. Check out these great services to upgrade your Shopkins cupcake toppers!
Comments