04 Jan 2020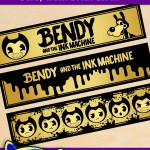 Free Printable Bendy and the Ink Machine Water Bottle Labels
Check out these are FREE Printable Bendy and the Ink Machine Water Bottle Labels in PDF format. Perfect for a scary, creepy or horror themed birthday party. If you have a Bendy and the Ink Machine fan in the house they can also be fun just to use anytime. No need to have a special reason, they're free printables to enjoy anytime you or your kids want to use them. I personally really like the old cartoon style art of Bendy and the Ink Machine!
There are 3 different Bendy and the Ink Machine water bottle labels. These include one with Bendy; the friendly little demon and Boris the wolf, one with ink running down the design and one with a bunch of Bendy's faces making different expressions. Almost like a Bendy and the Ink machine set of emojis :) This freebie prints 3 water bottle labels optimized for 8.5 x 11 inch standard, letter-size paper and will fit most regular sized water bottles. I always buy a 40 pack of water bottles from Costco for birthday parties and my free labels fit perfectly on them.
I put crop marks on these free Bendy labels To make cutting them out convenient and easy! I recommend using glue, hot glue or tape to stick your labels on the bottles. You can download your Free printable Bendy and the Ink Machine themed water bottle labels below.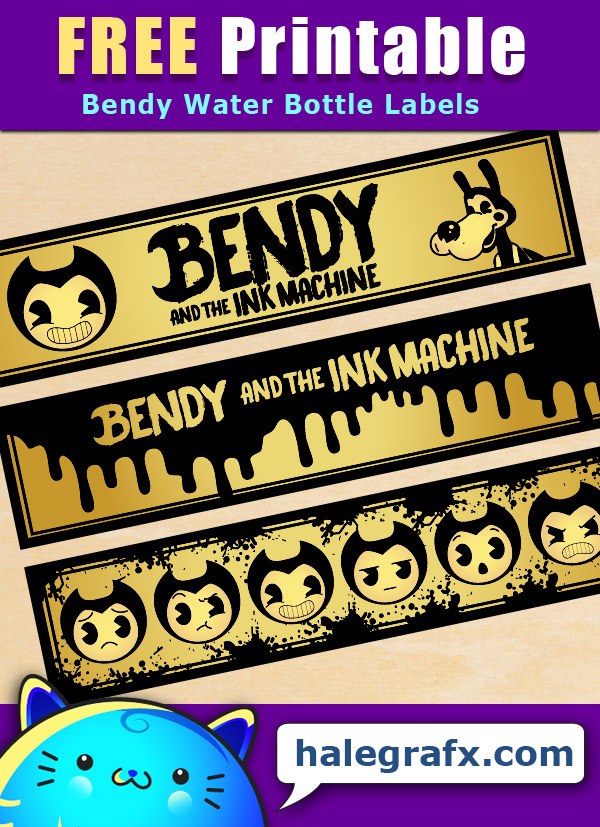 File Size: 372 KB
Format: PDF
What paper to use for Bendy and the Ink Machine bottle labels?
Multipurpose printer paper is my paper of choice. I think it is easiest to print on, it's cheap and if you have a printer, it's most likely already in your house. Also easy to cut and glue or tape. Standard paper is also easier to wrap around than a thicker paper.
If you are going to do lots of parties using my printables in the future,  I recommend a good laser printer.These printers are designed to print lots of color, it's not wet ink and you can print tons of full color pages before you run out of color in your toner cartridge While the color cartridges can be more expensive, I only buy refurbished cartridges and a whole set of color and black is cheaper than an inkjet cartridge. You will get so many more prints out of it as well.
If making sturdy labels for your Bendy  party is your goal, you can try using a cardstock paper.
Quit tip! Use contact paper to coat and protect your labels if you have them in a wet location. Then cut them to make them a super durable. You can get contact paper here! I usually keep my water bottles in a cold location but not so cold they form condensation. Just using normal paper works fine for me.
Don't forget Bendy and the Ink Machine themed toys and gifts!
To go with your Bendy and the Ink Machine themed party, check out these creepy Bendy and the Ink Machine themed items! Grab some inexpensive party supplies at the dollar store. You can get black and yellow plates, napkins, streamers, cups and utensils to match your theme.