28 Jun 2019

Celebrate the 4th of July with your favorite online game as your party theme; Fortnite! To get your decorating headed in the right direction, here is a free printable Fortnite 4th of July banner set that you can string up at your party or along your tent at the next Independence Day celebration.
This Banner set includes PDF files that print all letters in the alphabet along with sheets that say "4th" and "of". You can create your own custom message for a birthday or patriotic phrase. This free Fortnite banner pack includes some simple instructions for assembling with string and tape.
The Background of the banners have stars and stripes. Each letter is it's own PDF file and there are come cool and fun spacer sheets. letters are in the Fortnite font. These include Fortnite 4th of July skins/characters, Fireworks Team Leader, Star-spangled Trooper and Star-spangled Ranger. Combine these spacer sheets with letters that spell your holiday message. You can download your free Fortnite 4th of July banner set below.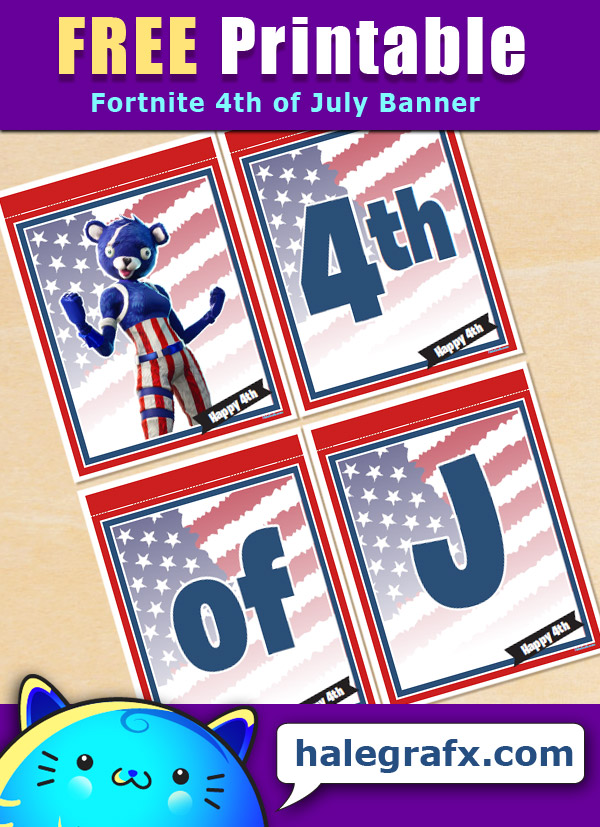 File Size: 2.37 MB
Format: PDF
What's the best paper for 4th of July Banners?
Using multipurpose printer paper is the most efficient way to go. Regular paper makes cutting sheets easy. You can save on ink long term if you invest in a laser printer as well. Long term we have saved a lot on printing with our Laser printer.
Check out my Fortnite Speed Draw of the Prisoner
Don't forget 4th of July decorations and gifts!
To complement your 4th of July party, check out these fun 4th of July decorations! After grabbing some of these items go to the dollar store and grab red, white and blue plates, streamers and utensils.