29 Aug 2016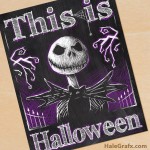 FREE Printable Halloween Jack Skellington Chalkboard Art
I love chalkboard art and there are lots of fun ways to use it for spooky Halloween decor. This is free printable Halloween chalkboard style art that is themed with Jack Skellington from the Nightmare before Christmas. This Chalkboard art has Jack, the Pupkin King with spooky Halloween town trees and sharp iron fences and other fun little details like a hanging spider. The text says "This is Halloween" in reference to the song from the Nightmare before Christmas movie. This is great to hang anywhere in the house or put above the fireplace.
What I like to do is put these printed chalk art in an unfinished frame. You can purchase these online, sometimes at a dollar store or at your local arts and crafts stores. I then paint the frame with some inexpensive acrylic to match the halloween theme! Great for turning this into a permanent nightmare before Christmas halloween decoration that you can bring out every year.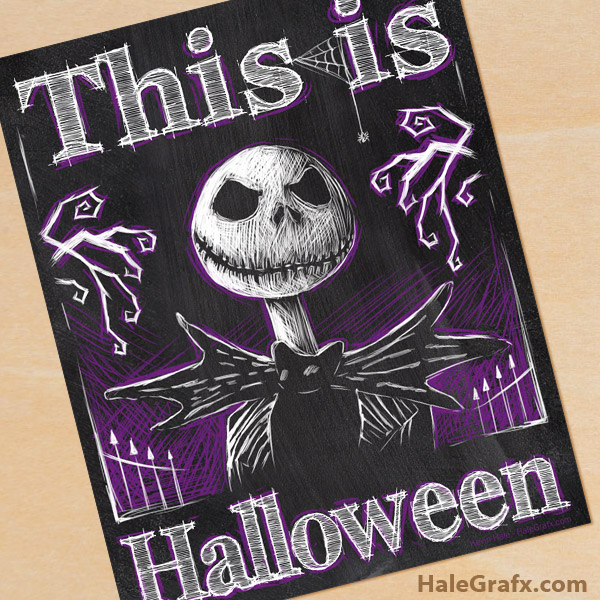 This free Jack Skellington Halloween art is available in high resolution JPEG format at 8 x 10 inches and will print on standard letter sized paper. Print, cut out, and frame for some decorative wall art in the kitchen or around the house during Halloween. You can download your free Halloween Jack Skellington chalkboard art below.
File Size: 1.84 MB
Format: JPEG
Check out my other free Nightmare before christmas printables here!
Ideas for a Nightmare before Christmas Halloween Party
Comments