22 Oct 2021
FREE Printable Halloween Nightmare Before Christmas Oogie Boogie Chalkboard Art
Chalkboard art can make great decorations for every holiday. For fans of Nightmare before Christmas, this is free printable Halloween chalkboard style art that is themed with Oogie Boogie from the Nightmare before Christmas movie by Tim Burton. This Chalkboard art has Oogie Boogie, the Boogie man with text from his lines in the movie. The text says "I am the shadow on the moon at night. Filling your dreams to the brim with fright". This is perfect to frame and hang anywhere in the house or put above the fireplace.
My favorite thing to do is put this free prinable chalk art in an unfinished frame. You can purchase these online, sometimes at a dollar store or at your local arts and crafts stores. Unfinished frames are usually pretty cheap. I then paint the frame with some inexpensive acrylic to match the halloween theme! Being framed helps turn this Oogie Boogie art into a permanent nightmare before Christmas halloween decoration that can be brought out every year.
This free printable Oogie Boogie Halloween art is available in high resolution PNG format at 8 x 10 inches and will print on standard letter sized paper. Print it, cut it out, and frame it and you are good to go! You can download your free Halloween Nightmare Before Christmas Oogie Boogie chalkboard art below.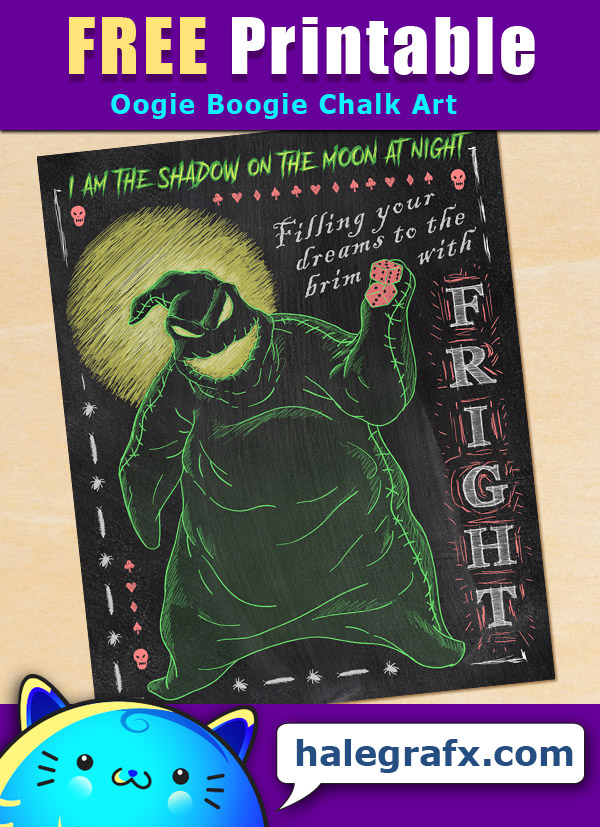 File Size: 9.68 MB
Format: PNG
Check out my other free Nightmare before christmas printables here!
Ideas for a Nightmare before Christmas Halloween Party