16 Apr 2017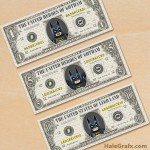 FREE Printable LEGO Batman Play Money
Make learning currency fun with LEGO Batman. Here is free printable LEGO Batman play money for adding to party favor bags, giving to lego loving kids to pretend with, or using to teach kids about currency. This DIY (Do it Yourself) printable LEGO Batman money is in JPEG format. The JPEG download prints 6 LEGO Batman dollars on 8.5 x 11 standard letter size paper. These dollars have cute little details such as LEGO Batman in place of presidents, LEGO Batman Symbol, LEGO Batman serial numbers (batbricks1) and other fun details that are great to observe and find. Simply cutout and giveaway or play.
Kids can use these along with my other printable play money to open their pretend shops and sell fake food, candy and toys in Gotham City or LEGO land. Just print these out and let your kids imaginations go wild. You can download your free printable LEGO Batman play money below.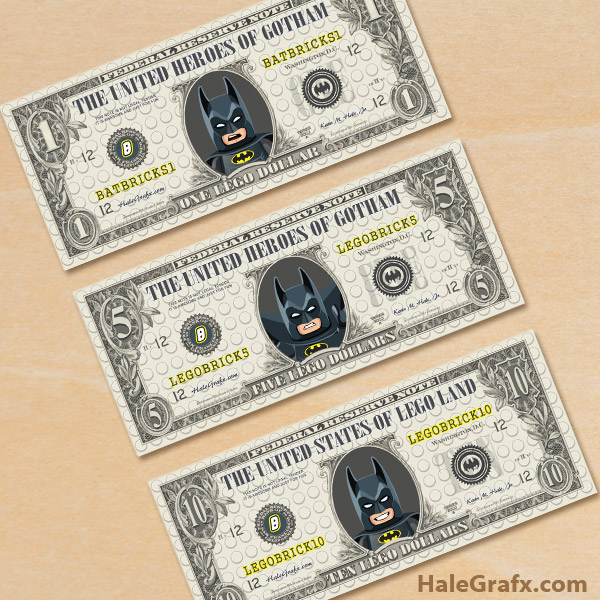 File Size: 1.87 MB
Format: JPG
What can I use to cut my LEGO Batman play money?
Using a good pair of scissors work just fine, but with printing and cutting your free play money and lots of my other free LEGO Batman printables, a paper cutter comes in handy! It will make quick work of all those straight cuts. It is also helpful because you can cut more than one piece of paper at a time. We have a couple different paper cutters for all our free printables. I suppose if you had a sharp Batarang, you could use that too :)
Check out all the great LEGO Batman gift ideas!
There are lots of great LEGO batman party supplies to go with your free printables. Make birthday or holiday shopping easy! Check out at all the LEGO Batman toys and gifts here! There are some LEGO sets available.
Comments