14 May 2017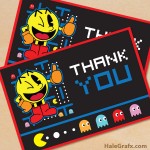 FREE Printable Pac-man Thank You Card
I love retro games like Pac-man. I grew up with them! This is a FREE printable Pac-man themed thank you card for you to use. This thank you card is in the retro/original style pac-man art with the cartoon version and maze references. This card simply says "Thank you" in a pixel style font.
Use this Pac-man card for birthdays, game parties, Pac-man parties and any time you just want to say thanks to friends, fellow gamers and family! The Thank you card is designed to print on 8.5 x 11 standard letter size paper and fold after cutting. Folded, the thank you card is approximately 4 x 6 inches. Also included is a printable 4 x 6 inch JPG Thank you for printing a non-folding option. With the non folding option simply write your message on the back. Great for fans of Pac-man or any one who loves the old games of the past. Download your free Pac-man Thank you card below.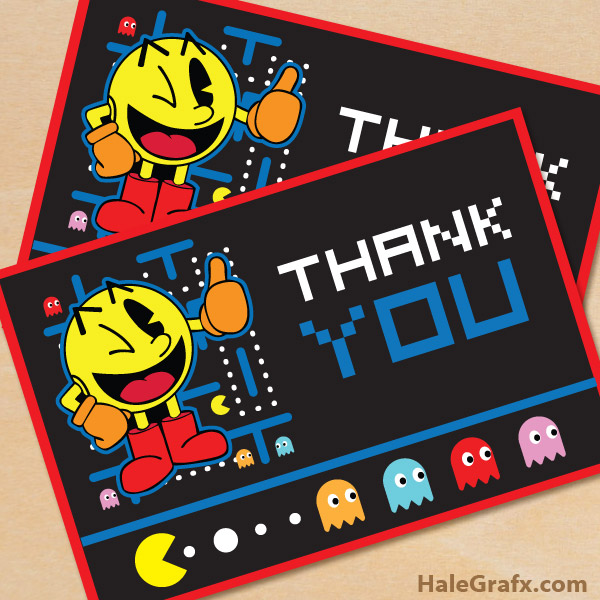 File Size: 349 KB
Format: PDF & JPG
Get Printer paper for your Pac-man Card!
Save on your Pac-man thank you card printing or printing many other free Pac-man printables from HaleGrafx. You can get regular printer paper here. If you want to use card stock for your Pac-man thank you cards, here is a great option. Card stock gives a genuine card feel :)
Don't forget Pac-man party supplies and gifts!
To complete your Pac-man Go party, check out these fun Pac-man party supplies and gift ideas. Games, candy arcades, figures and more decorated with various Pac-man, ghosts and colors that will help tie together your party theme!