16 Jan 2013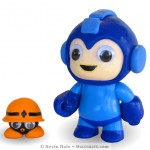 8 Bit Megaman Custom Vinyl Figure
Happy New Year! I've wanted to post this Megaman vinyl figure for a while now. Megaman was one of my quickest custom figures but also a definite favorite! I love megaman. I still breakout those 8 bit classic video games and play them with my daughters. They are Megaman fans too! We even have some Megaman/Rockman cartoons and comic books we watch and read together. Fun stuff!
This Megaman custom vinyl figure started as a penguin Creatology figure that I got from  a Michaels craft store. They have a neat penguin figure that works as a great base and I have used before. See my Breath of Fire Ryu 4 vinyl figure; it uses the same Creatology figure.
For this custom Megaman vinyl I started by modifying the head and removing the beak of the penguin. I then added some clay and smoothed it out. Next I gave the head a quick bake in the oven and then sanded the face to be smooth. Viola! No more penguin beak.
The rest of the process was sculpting basic shapes and painting basic colors to reflect the Megaman seen in the original 8 bit Nintendo games. I finished my Megaman vinyl figure off with some wiggly eyes.
Comments