11 Aug 2012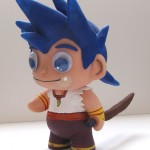 Breath of Fire 4 Custom Creatology Vinyl Figure
I created this custom Breath of Fire 4 figure using a Creatology vinyl figure toy that you can get from Michaels stores in my area.  As you will see from one of the pictures below, I used a Christmas themed vinyl penguin figure to start.
I like working with RoseArt's Color Blanks but these vinyl figures are a good alternative if you can't get your hands on any. The Creatology penguin figure that I used from Michael's has a comparable thickness of material to a Color Blanks vinyl and was easy to modify.
I based my custom vinyl figure off of the incarnation of Ryu from Breath of Fire 4.  If you're familiar with the Breath of Fire series on Nintendo and Playstation, this is the main character and each game has a different variation of him with key similarities but a different back story.
To start my custom modification of Ryu I took the Creatology penguin figure and I modified him by removing the beak with an X-acto knife. I then added polymer clay to make a nose and ears. After finishing the resculpt of the head I baked it at a low setting; approximately 245 degrees.
The next step was to paint the base color of the skin and then start sculpting hair, clothing, and his sword. In order to make the sword more stable I inserted a piece of small metal wire into the hand and arm area before sculpting a polymer clay sword around it. After another baking of the custom vinyl Breath of Fire figure I finished it off with more paint details and added some additional touchups with my Micron pens. Check out the finished figure below!
If you have a Michaels store in your area you may consider picking up some Creatology figures there. As an alternative I would definitely consider going and getting some of Rose Art's color blanks and doing some custom vinyl sculpts yourself!
No Responses