22 Jun 2012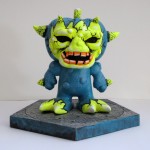 custom Halloween Color Blanks figure
Around the holidays there are often seasonal Color Blanks. Last year I found Halloween Color Blanks available at Michaels. This was one of the first Color Blanks I ever did a custom version of.   
This Halloween Color Blanks figure had a pumpkin head and I was immediately inspired to see how I could transform it into something different. I took out my plastic clay and started molding pieces to make the face look scary and added spikes to the head. 
To modify the feet I extended some pieces of clay to create sharp toes. The teeth were created by taking some wooden sticks, much like popsicle sticks that you can purchase from a craft store, and cutting them up into little wood squares. I then painted them with acrylics and stuck this directly into the soft, unbaked clay.
I stuck my Halloween Color Blanks figure in the oven at about 250° suspecting that it would need to be baked at a little bit lower temperature because of not knowing how easily the plastic would melt. When I took the figure out of the oven everything looked pretty much intact except the hands got a little bit warped and bubbled from the heat.  In this case it lent itself to the modification and making my figure scarier but I would need to solve this on future custom Color Blanks. From the heat warping of the plastic figure it could also not stand correctly anymore. The solution I found was to mount the figure to a base with glue. I ended up using a base that I had from another figure that had broken a long time ago.
I finish my Color Blanks figure with a mixture of acrylic paints, sharpies and micron pens to achieve the desired look. If you get a chance check out some of my other custom figures too!