16 May 2016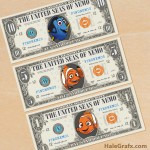 FREE Printable Finding Nemo Play Money
Are you looking for some great Finding Nemo or Finding Dory party favors or even home school printables? This free printable Finding Nemo play money is a great for adding to party favor bags or making teaching fun with a currency activity. This DIY (Do it Yourself) printable Finding Nemo money is in PDF format. The pdf download prints 7 Finding Nemo dollars on 8.5 x 11 standard letter size paper. These dollars have cute little details such as President Finding Nemo, President Dory and President Marlin. There is a cute little fish emblem and these are of course "sand dollars. Simply cutout and giveaway or play.
My daughters like to use these along with my other printable play money to open their pretend shops and sell fake food, candy and toys. Just print these out and let your kids imaginations go wild. The come in denominations of 1 sand dollar, 5 sand dollars and 10 sand dollars. So these work great for teaching currency if you want to use them for making school fun! You can download your free printable Finding Nemo play money below.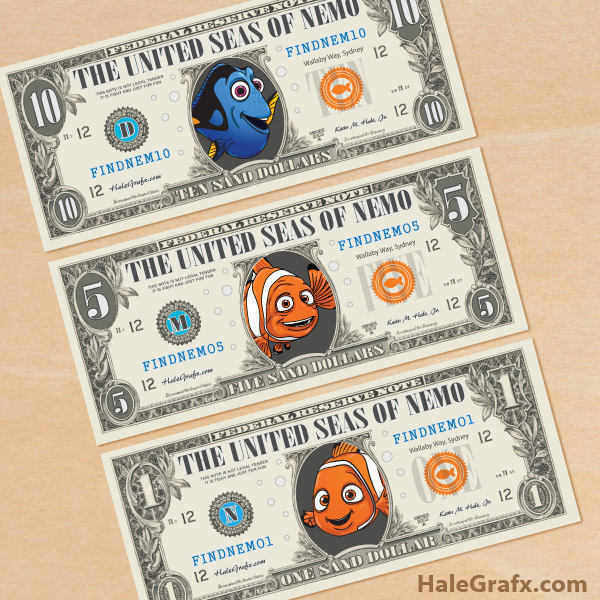 File Size: 1.6 MB
Format: JPG
What Type of Paper Should I Use?
For thicker play money I recommend using a white cardstock paper. It is durable and looks nice. For a more economical choice try a multipurpose printer paper. It is easy to bend and quick to trim.
What Can I Use to Cut My Paper?
Scissors get the job done but I recommend taking a look at a paper cutter. It will help you keep your edges nice and straight. It is also helpful because you can cut more than one piece of paper at a time. We have a couple different paper cutters for all our printables :)
Don't forget Finding Dory & Finding Nemo party supplies!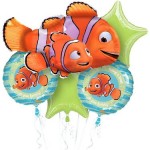 To complete your Finding Nemo party, check out these fun Finding Nemo party supplies! Plates, cups, napkins, etc., decorated with fun Finding Nemo designs will help tie together your party theme!