15 May 2012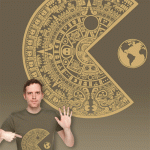 Pac-Mayan Threadless T-Shirt Design Submission
Here's my latest submission to Threadless.com's ongoing t-shirt design contest. I created this design in Adobe Illustrator. I decided to theme it around a prominent topic of 2012; the end of the world.
An "end of the world" Illustration
There are many theories on how the world is going to end but one that I see a lot and that you may have heard about is the connection between the Mayan calendar and the end of the world. I don't believe that most people want to hear that the world's going to end as we know it or that life is going to cease to exist.
I personally don't think the world is going to end anytime soon so I think there is some entertainment value in making fun of the idea as we've been through these "end of the world" scenarios before.
This particular shirt design is inspired by my love of classic video games in combination with the prophecy connected to the Mayan calendar. I also really like the intricate artwork on the Mayan calendar. The resulting illustration: Pac-Mayan.
Pac-Man as the Mayan calendar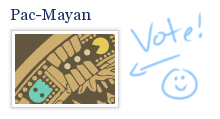 This Pac-Mayan vector illustration is a merging of the Mayan calendar with Pac-man, who now as the calendar is about to devour the Earth; normally a power pellet. If you look closely at the calendar you will see little illustrated elements from the Pac-man game integrated into the design. Objects such as little ghosts, cherries, power pellets and little Pac-man figures can be found all over the illustration.
Vote for me on threadless.com!
If you like to help me get this design printed as a T-shirt then head over the threadless.com and vote for me! It's currently in the running and your support is greatly appreciated.
Quick signup to vote!
Signing up for a Threadless.com account if you don't currently have one is free and quick and doesn't require any special info. You will just need to setup a username, password and email. They will also offer you an optional newsletter. You can also login with Facebook. Threadless.com is a really creative and thoughtful community where users and designers decide what designs become printed as T-shirts and other products.
A designer's backup plan…
If this design doesn't do too well on Threadless.com perhaps I'll give it a shot on shirt.woot.com and see how the community there receives the t-shirt design. Thanks for taking a look!